Best Nashville Instagram Captions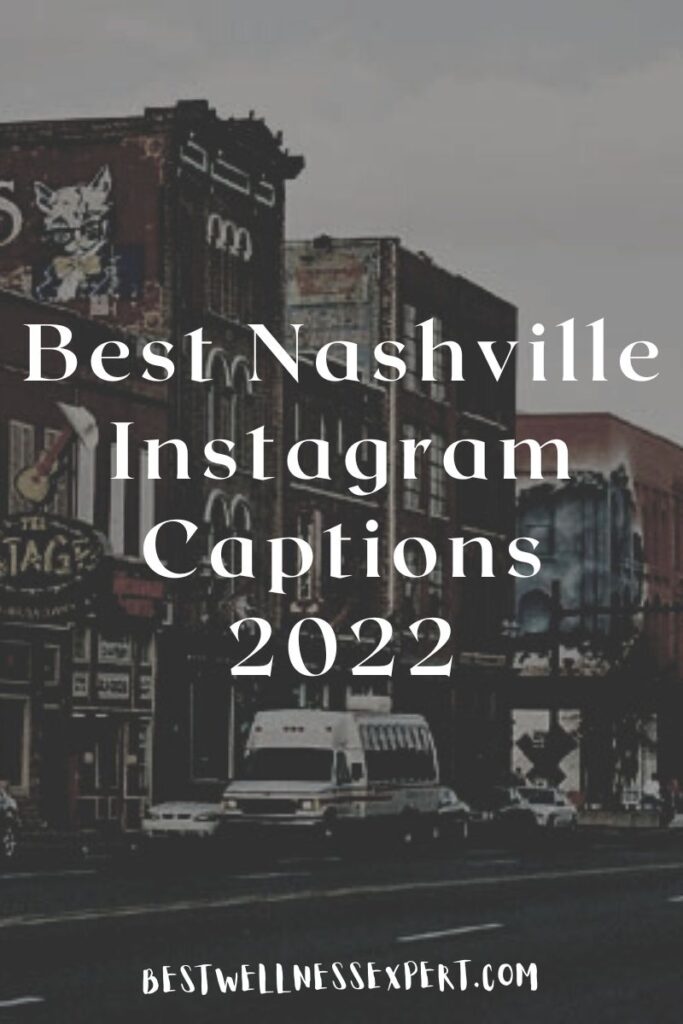 The captions you use on your Instagram photo can have a huge impact on how many people like it and how many comments it gets. Luckily, there are plenty of captions out there to choose from, whether you want to be witty, cute, or inspiring. Here are some of the best Nashville Instagram captions that will help your photos get tons of likes in 2022!
615
A bad day in Nashville is better than a good day anywhere else
Be more like Dolly
Blame it on my southern roots
Bless your heart in Nashville
Born and bred in Nashville.
Born to play country
Chasing my dreams all the way to Nashville
City lights got nothin' on country nights.
Country is a way of life.
Country music and beer, that's why I'm here
Country music is good for the soul.
Country music is three chords and the truth.
Country music, a drink, and some sunshine.
Country roads take me home to the place I belong.
Cowboy boots, country roots, and Nashville nights
Cowboy take me away
Cowboys and country music
Dolly for President
Easily distracted by good country music
Eat, drink, and celebrate everything in Nashville.
Everybody now thinks that Nashville is the coolest city in America. – Dave Grohl
Fueled by coffee and country music
Get your honky tonk on.
Related: 60+ Best Deep Captions For Instagram 2022
Nashville captions for couples
Getting Nashty
Having a Nash bash
Honky tonk central
I believe in Nashville.
I choose Nashville.
I don't have an accent, y'all do
I had no idea when I moved to Nashville people just were songwriters. I had no idea. So I guess I was selling myself as a singer when I first moved here. But then right after I first moved, I started writing a lot. – Ashley Monroe
I have a special place in my heart for Nashville because it saved my life back in the day. – Kris Kristofferson
I just want to chill and go to Nashville
I like my country music at a volume where I can't hear you complaining about it
I love you all the way to Nashville and back.
I was country before country was cool
If it ain't country, it ain't music
If you don't like Miranda Lambert, I don't think we can be friends
In Dolly we trust
In a Nashville state of mind
It's a Nashville thing, you wouldn't understand
It's a holy city for music. – Hugh Laurie
It's the best part of America. – Nicole Kidman
I'd rather be in Nashville
I'd rather be playing guitar
I'm a Nashville man.
I'm in a Southern state of mind.
I'm rednecker than you
Just a Nashville girl living in a whiskey world.
Keep calm and go to Nashville
Keep calm and stay country.
Related: 65+ Best Snapchat Captions For Girlfriend 2022
Clever Nashville Instagram captions
Left my heart in Nashville
Let's go girls
Life without music? I just can't…
Living the Nashville life
Made in Nashville, USA
Make country music great again
Meet me down in Nashville
More bouquets and cowboy boots, please.
Moscow mules and sweet tea.
Music City, USA
Music gives a soul to the universe. – Plato
Music is life. That's why our hearts have beats. – Cecily Morgan
Music is the medicine of the mind.
My absolute favorite meal in Nashville is sweet-potato pancakes at pancake pantry – Taylor Swift
Bachelorette Nashville Instagram Captions
Nash Nash Nash
Nashville feels like a big little town to me. – Ricky Schroder
Nashville girls run the world
Nashville has always felt perfect. – Jack White
Nashville is calling and I must go
Nashville is one of the greatest places for the best songwriters in the world. It's been fantastic to live there and to raise our family there. It's a great town. – Faith Hill
Nashville is the place where I first realized how impossible it is to look at someone and know what is inside them, what special something they possess. – Callie Khouri
Nashville is wicked. It's like a proper music community, but it's also quintessentially american. You bump into people there with cowboy hats that spit in jars and call you 'boy.' I just love that. – Ed Sheeran
Nashville looks good on us
Nashville looks so good on you.
Nashville may be famed for its country music, but it may well be the capital of rock and roll music in the USA
Nashville vibes and honky tonk nights.
Native of Nashville
Now all I need is cowboy boots and a guitar.
Of course I love music, I'm from Nashville
One of the magical things about Nashville is just how many incredibly talented people are here and the way they support each other. – Callie Khouri
Related: 60+ Best Bikini Captions For Instagram 2022
Funny Nashville puns for Instagram
Physically I'm here, mentally I'm in Nashville
Pretty girls like country music
Raised on sweet tea and country music
Save a horse, ride a cowboy
She's whiskey in a teacup.
Smooth as Tennessee whiskey, sweet as strawberry wine
Straight outta Nashville
Talk Nashville to me
The soul of Nashville never dies.
There is nothing else to do in Nashville, except to write songs
There isn't nothing wrong with Nashville
There's more women stars in Nashville all the time. They're proving they can do the job the same as a man. – Loretta Lynn
There's nothing a trip to Nashville can't solve
WWDD: What Would Dolly Do?
Welcome to the honky tonk.
Well butter my butt and call me a biscuit, I'm in Nashville!
We're fueled by coffee and country music.
Without music, life would be flat.
Yee-haw
Y'all come down to Nashville, you hear?