Best Not Feeling Like a Priority in a Relationship Quotes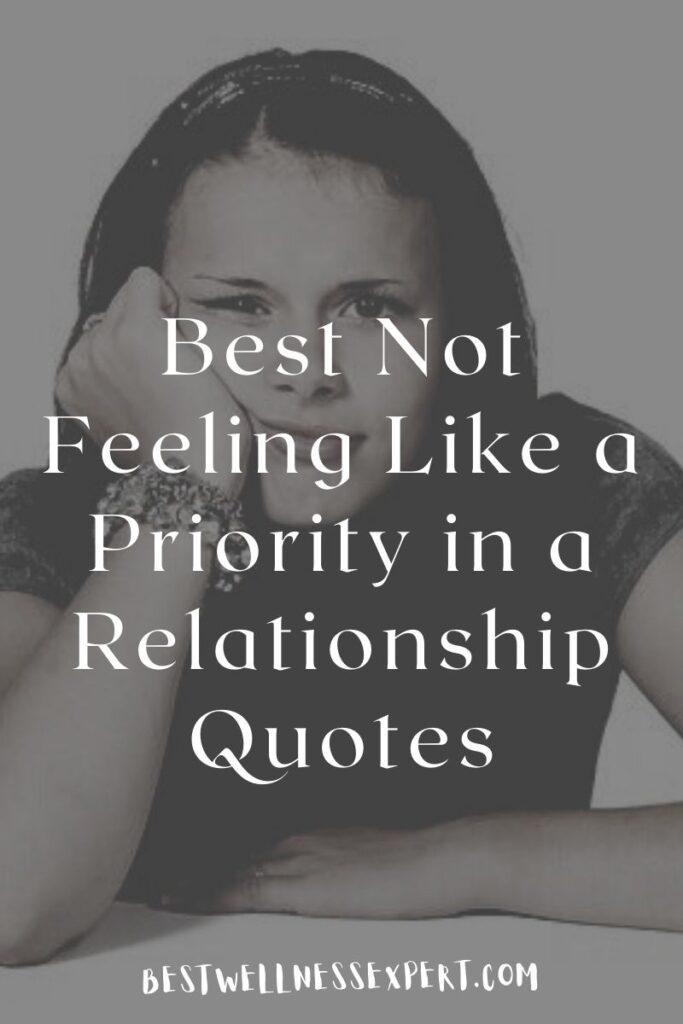 How do you know whether you're feeling like a priority in your relationship? In some relationships, feeling like you're not as important to your partner as they are to you will be more of an issue than others, but it can happen in any relationship, whether you've been with your partner for decades or just started dating them last week. Feeling like you don't matter as much to the person you love can make your entire life feel worse, and this isn't fair to anyone involved. Read on these not feeling like a priority in a relationship quotes.
Related: 9 Things To Remember When You Feel Like a Failure as a Parent
A real man makes his lady feel like a priority, not an option.
Action expresses priorities. – Mohandas Gandhi
All relationships go through h*?*, real relationships get through it.
As priority changes love changes. – Tashiya
For honest insight into who you are, don't ask yourself what your priorities are for next week. Ask what your priorities were last week. – Robert Reed
Happiness is not a priority for me.I prefer the dangers of being madly in love. – Paulo Coelho
I don't want a perfect relationship. I want someone I can trust and who won't be cheating on me physically and emotionally. Everyone needs someone who loves them completely and who won't play games with their heart.Last but not least. I'm a strong believer that when it comes to relationships, remaining faithful is not an option but a priority, Loyalty means the world. – Brigitte Nicole
I stopped feeling special when i realized that i wasn't your number one priority.
If it is important to you, you will find a way. If not, you'll find an excuse.
If she's loyal to you. She shouldn't be a choice, a thought, or an option, she should be your priority.
I am not your first priority quotes
Related: 80+ Best Inspiring Kind Heart Quotes
If someone is really into you, you don't have to keep begging them for a text, call or to spend time. They'll do it if you're a priority.
If someone truly loves you, they won't make you feel like you need to constantly fight for their attention.
If you can go a whole day without talking to me, then go another.
If you have to ask where you stand chances are you're not a priority because if you were you'd know it. – Sonya Parker
If you let her know that she is your priority and remind her from time to time how much you care, you'll be amazed at how many problems disappear in your relationship.
If you spend too long holding on to the one who treats you like an option, you'll miss finding the one who treats you like a priority.
If you're constantly having to wonder where you stand with someone, maybe its time to stop standing and start walking.
If you're important they'll make a way.If you're not they will make an excuse.
In order to say yes to your priorities you have to be willing to say no to something else.
It sucks being ignored.It makes you fell like you're not important. That's, although selfish, you should be a high priority in their lives. No matter whats going on.
It's not about having time, it's about making time.
It's not selfish to love yourself, take care of yourself, and to make your happiness a priority.It's necessary. – Mandy Hale
Looking for more inspirational quotes about relationships?
Love is a priority.True love is being a priority. – Ananya Aggarwal
Love is family, support, priority and understanding. – Gary Kemp
Love is my first priority, all others may vary. – J M Gharst
Love is not who you can see yourself with. It is who you can't see yourself without.
Make your relationship your number one priority. – Lisa Ling
Make yourself a priority. At the end of the day, you're your longest commitment.
My main priority in any job is when is the soonest i can get back to the three people i love the most in the world. – Martin Freeman
My mistake was making you a priority, when i was your second choice.
Related: 70+ Best Funny Art Puns and Jokes
Priority Quotes about a relationship
Related: 100+ Best Bored Captions and Quotes for Instagram
Never allow someone to be your priority while allowing yourself to be their option.
Never make someone your priority when all you are to them is an option. – Maya Angelou
No one is really busy.It all depends on what number you are on their priority list.
Pisces give their relationship priority relative to other things.
Priorities diverges relationships. – Wanderer
Relationship gap starts, when priority changes.
Relationships are not suppose to make you feel bad.
So many men think women want money, cars and gift.But the right woman wants a man's time, loyalty, effort, passion, honesty, smile and him choosing to put her as his priority.
Staying in a situation where you are unappreciated isn't called loyalty.It's called breaking your own heart.
Staying in a situation where you're unappreciated isn't called loyalty. It's called breaking your own heart
Relationship priority Quotes for Him
Stop feeding connections that don't feed you. Stop spending so much time filling others, while you starve of love. You are deserving too. – Billy Chipata
The only person worthy of your love is not one who overstayed in the relationship without a single change, but one, who appeared like an angel, and used a single day to make a million changes.
The right person will make you a priority.
The wrong person makes you beg for attention, affection, love and commitment. The right person gives you theses things because they love you.
Time changes priorities, priority changes relationships. – Harish Kanan
When priorities change replies get slower. Conversations get shorter situations are blamed.
When someone tells you they are too busy.It's not a reflection of their schedule, it's a reflection of your spot on their schedule. – Steve Maraboli
When someone treats you like an option, help them narrow their choices by removing yourself from the equation. It's that simple.
Without communication, there is no relationship. Without respect, there is no love. Without trust, there is no reason to continue.
You're not an option, you're my priority.